At the beginning of June I decided to try yet another 30 day painting challenge. I'll be honest, the chances of me finishing it, given my track record with these types of things, hovered somewhere around zero percent. I love the idea of these daily themed challenges and I've excitedly started them too many times to count in the past few years. But somewhere around the end of the first week or middle of the second, I generally start to lose interest, fall behind a couple of days, and then decide the whole thing is a write off. It's a frustrating cycle of failure that I was determined to break so I decided to aim small and #30daysoftinylandscapes was born. I figured even a challenge flake like me could manage to fill a little 2.5 inch square canvas with paint every day. I mean how hard could it really be? Cripes. 
About ten days into this challenge I started feel a little overwhelmed. It is tough for me to find time to paint every single day and generally, if I don't get an opportunity to paint first thing in the morning, then it just doesn't happen. In the last couple weeks of school, with all the end of school activities and chaos, I was wondering what the heck I was thinking. But I decided this time to give myself a little bit of wiggle room. I allowed myself a couple days off and then caught up with painting and posting when it was possible. I did this throughout the challenge, so I guess I kind of cheated a little bit, but I did finish the 30 mini landscapes within the original 30 day timeframe. And I ended up with 30 tiny paintings that I was really pleased with. But I'm pretty sure I won't do it again. 
I'm relatively certain I won't do it again because while in the midst of the challenge, I found that I had a million ideas for larger projects I wanted to work on that I would have found much more challenging and satisfying, but I couldn't commit time to anything else while trying to complete the challenge, as tiny as it was. And by the time I finished dreaming up 30 tiny landscapes that would fit into 2.5 square inches and then painting those landscapes, my creative spirit was feeling a little bit wilted and tired. Maybe at a different point in my life, when I have dedicated work hours and a dedicated work space to be able to work on multiple projects at once, I could tackle something like this again. But as long as I'm working with limited space and very limited creative time, I won't dedicate that space and time to forcing myself to finish a themed challenge, as satisfying as it was to finish this one. 
So now that the challenge is complete, I've been asked a lot about what I'm planning to do with those 30 little paintings. Quite a few people have expressed that they all belong together and part of me, sitting here looking at all thirty displayed on the magnetic white board in my creative space, agrees that it would be nice to keep them together. However after giving it a lot of thought, I have decided to separate them and part with them individually. 
The cost of supplies gone into each little painting is approximately $6.00 and each one took anywhere from 30 to 75 minutes to paint. Priced at a pretty conservative $10 a piece, the set would be valued at about $300 and only one person would get to enjoy them. I decided to sell them individually because it makes it possible for people to purchase just the one that speaks to them, that reminds them of their favorite place or moment in time. And it makes me happier to think of sending these tiny little paintings out into the world one at a time to make a lot of different people happy. 
I also realize that for some people, especially in these challenging economic times, even $10 for a tiny little piece of art is a stretch in a tight budget. So I've decided to list 25 of the 30 paintings in my Etsy shop and I've randomly selected  5 of them to give away on my Facebook page to 5 different people. I'll be posting the giveaway on August 10th and the winners will be randomly drawn on August 15th.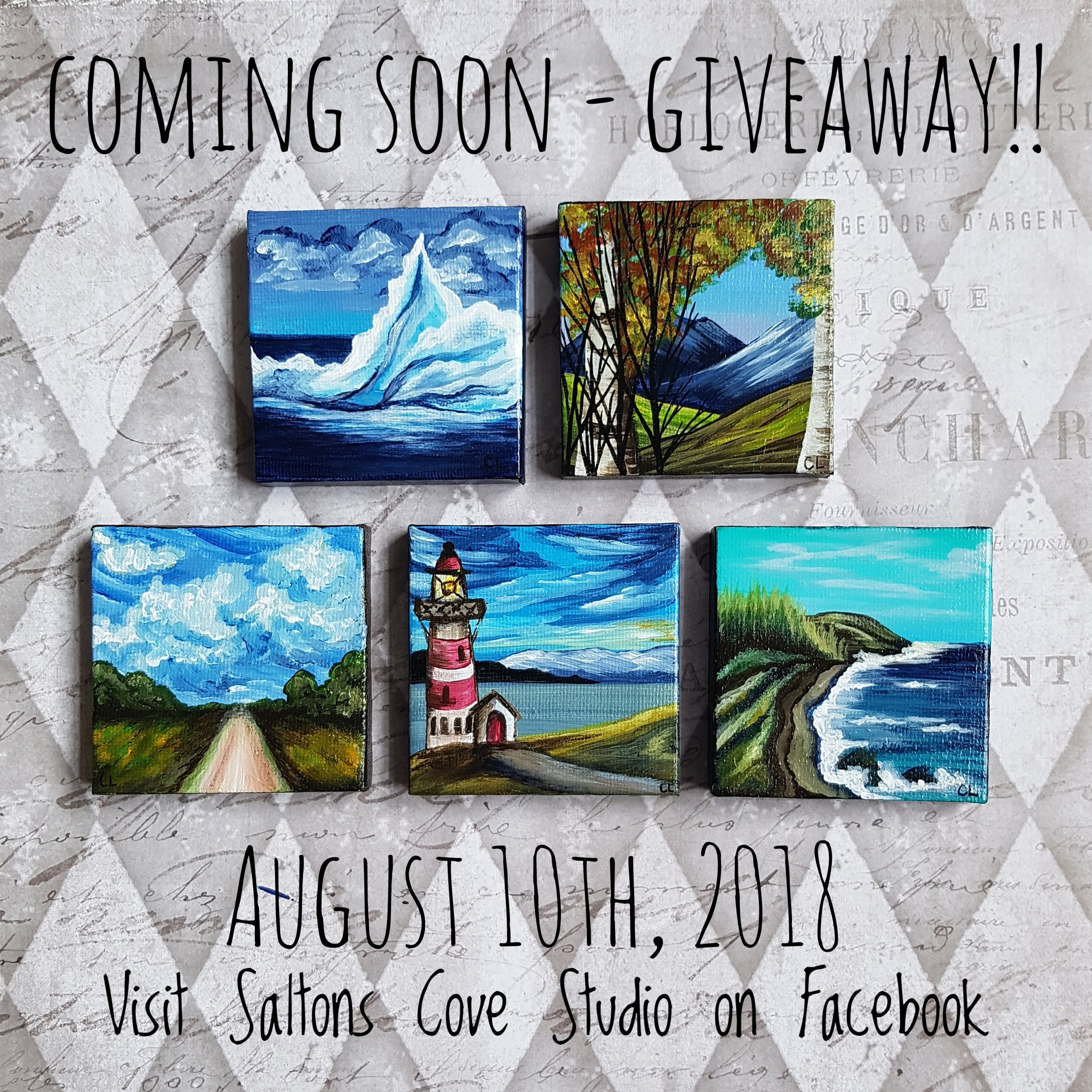 During the giveaway period, I'll also be offering a 15% off coupon valid on any piece of artwork in my Etsy shop. Be sure to visit my Saltons Cove Studio Facebook page on August 10th for all the details!