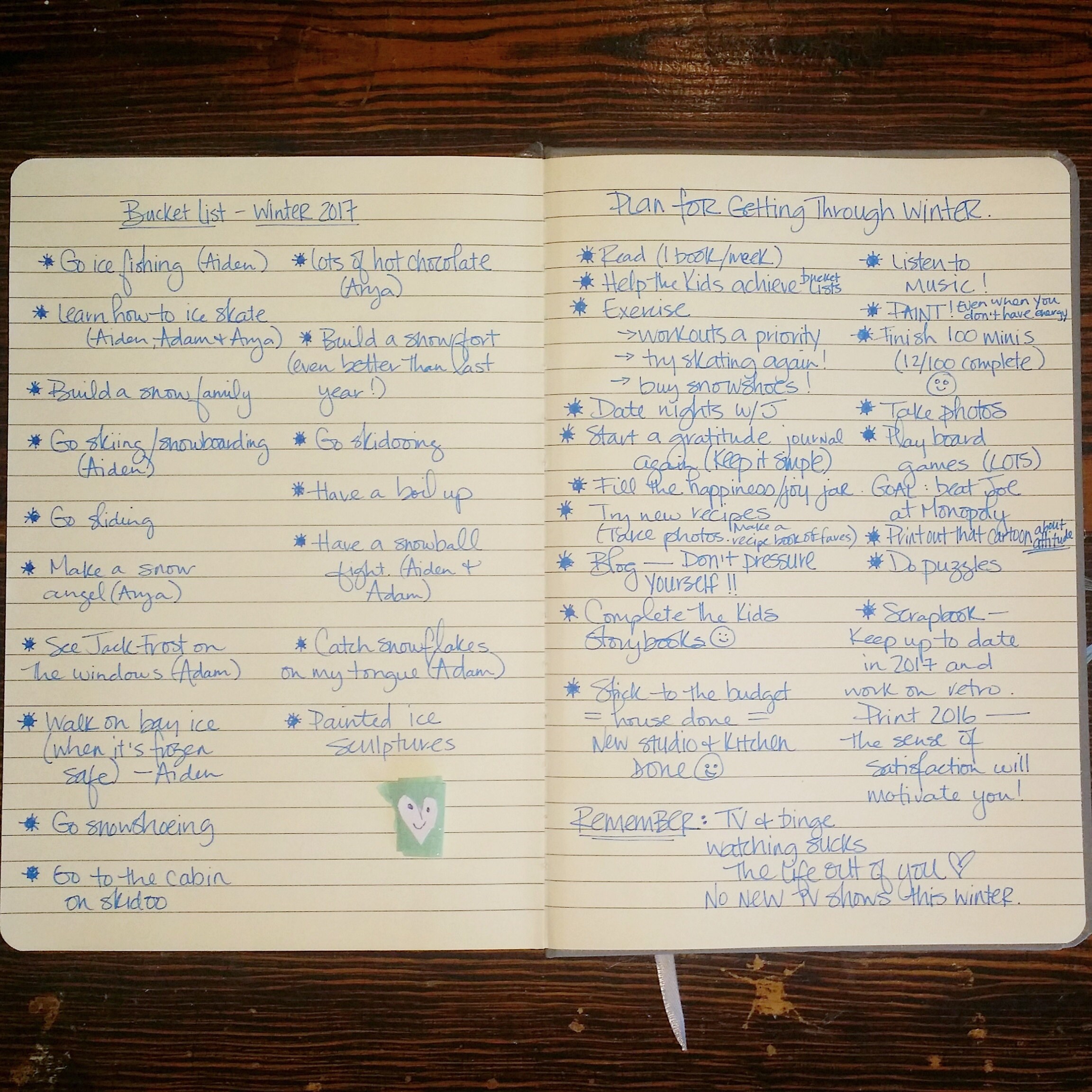 *** This post was originally published in January 2017 ***
Each year I soak up every last ray of sunshine, every bit of color and warmth summer and autumn have to offer and I dread the onset of winter. I struggle every single year to keep my head above water during the winter months… I love the very first snowfall of the season and I love the preparations and excitement of Christmas, but as soon as the holidays are over and the kids head back to school in January, depression starts to creep up on me. I start to feel hopeless and void of energy. My creativity seems to dry up. I become irritable, cranky, easily frustrated and low on patience. Everyone in our house suffers because of my winter blues (aka Seasonal Affective Disorder). Last year, after we left beautiful spring in Lillooet and moved back to Newfoundland to experience several more months of harsh freezing cold weather, I realized two things. The first, how much my struggle was affecting my children's feelings about winter. My children were beginning to talk about how much they hated winter and I wasn't okay with that at all. They shouldn't hate winter at such a young age, they should be enjoying snow and sledding and everything else you can't do any other time of the year. And second, keeping my head above water was no longer good enough. Just barely surviving winter depression wasn't going to cut it anymore. We experience up to six months of winter weather here in Newfoundland  (don't let those fairytale tourism commercials convince you otherwise!). This year, I was determined not just to cope, but to beat my winter blues. 
 Since the kids had started to show signs of absorbing my hatred and dread of the cold weather, I decided to enlist their help and on New Year's Day, we sat down and created a plan to make this winter one we would all enjoy. I asked the kids to tell me all the things they wanted to do, learn, experience or accomplish during the winter months and we made a winter bucket list. I am a list/goal oriented person and I felt strongly that creating a bucket list for the kids was something that would keep me motivated – for them even when I wasn't motivated for myself. We also created another list together – I explained that I didn't really hate winter as much as my mind struggled with feeling cold, no sunshine and being stuck in the house a lot. So I asked them to help me think of ways I could stay positive. It was actually pretty interesting how intuitive they were about the things mommy could do to feel good. They came up with things like listening to music, reading, playing board games, exercising and healthy food. I added some other things I wanted to work at and accomplish that would lift me up, like creating, blogging and catching up on Project Life. 
 It's been a little over a month since we had our winter blues brainstorming session and I'm happy to say so far so good. I'm enjoying winter. We've crossed a few things off the bucket list and I've been sticking pretty well to the plan. We've spent time outside nearly every day and (gasp) I haven't frozen yet. I built a skating rink in our front yard – it took a hell of a lot of shoveling and packing and flooding and icing but we managed to get pretty good ice quality, picked up ice skates and helmets, and I taught all three kids how to skate. I also laced up a pair of skates myself for the first time in almost twenty years and I've had an unimaginable amount of fun on our little rink with the kids, who are now addicted to ice skating.  We have went sliding, built snow forts, the kids have each went skidooing, we drank lots of hot chocolate, I've worked out nearly every day in January, kicked the Pepsi addiction that I've had most of my adult life, kept junk food to a bare minimum (movie nights) and made creating a must instead of an option.  I hesitate to say it, because this is only February and last year winter extended to April, but so far I an beating my Seasonal Affective Disorder and I am enjoying winter more than I have in a very very long time. We still have a couple months of cold weather and short hours of daylight left, but we also have several things yet to check off on our bucket list and I have several goals in my personal list still to work toward. I think we'll make it. And my kids? They love winter this year. They are suited up and out the door every single day as soon as they hop off the bus. They are thriving this winter. And so am I.  If I have one piece of advice for others who struggle this time of year like I do, it would be to stop struggling ALONE. Tell someone you love that you need help, you need a plan and you need encouragement and company to get through this. And remember, spring is coming.